Our patented MagSecur technology provides hundreds of thousands of locking combinations by using Neodymium magnets to drive multiple locking components inside a lock or device into unlocking configurations.
This technological platform is the basis for the creation of locking mechanisms that are not prone to the weaknesses of traditional, keyed, locking mechanisms. Without a key hole to access the internal mechanism, the MagSecur technology can be used to design systems that are safe from picking, freezing, and vandalism attacks.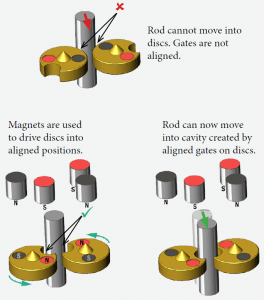 It is ideal for weather-proof applications or for concealing applications, and Capitol can integrate it into any particular application that demands such features.
MagSecur In Your Products
Our patented magnetic technology is available for integration into OEM products, has a wide variety of applications, covers a broad range of markets, and can be used for fastening, securing, and a multitude of other applications limited only by imagination.
At the basic level, some of our standard products, such as our Magnetic Cam Lock, can be seamlessly integrated directly into your products. If required, we can also make modifications or even custom design an assembly better adapted to your specific needs.
Capitol can also produce the entire product, entirely under one roof and under your label. Our customized OEM program, from concept design to fabrication, offers turnkey solutions for magnetic assemblies and components and ensures that our customers receive products that are specifically created to their unique design requirements.